Biography - Tom McFarland
"…one of the most sensitive accompanists on the folk scene" - Folk Roots
"Vocals and rhythm, the basis of music" - Berlin's Zitty Magazine on Fil Campbell and Tom McFarland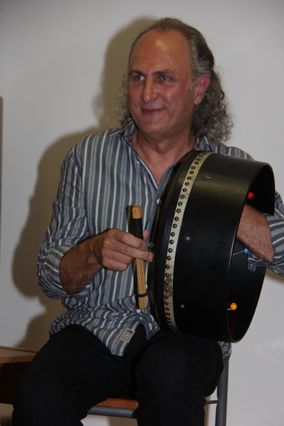 Talented multi percussionist, singer, songwriter, backing vocalist, studio recording engineer and video editor, Belfast-born Tom McFarland has earned fame for his ability on a wide range of percussion instruments, from the bodhrán and African Djembé to Latin American congas and bongos. That percussive contribution has been a vital part of Fil and Tom's distinctive sound since they began performing together in the early 90s.
Tom has also toured with David Knopfler (co-founder of Dire Straits with brother Mark) and worked on his CD Wishbones, toured with Ben Sands of the world-renowned Sands Family and guested on stage with Finbar Furey.
Tom's recording credits include work with Tommy Sands, Rosemary Woods, Briege Murphy, Finbar Furey, David Knopfler, Ben Sands, Nina Armstrong, Voices of Lecale Choir, Emigrant Woman's Tale, the Songbirds TV show and Colum Sands. At his Ballyneddan Studio, Tom has produced recordings of songwriters, film tracks, yoga and meditation recordings, TV documentary edits, voiceovers in many different languages and film edits.  
Recently adding songwriting to his list of credits, Tom penned four songs on the couple's latest CD, Together, including the Birds' Song, a powerful parody on the current global refugee/immigration crisis around the world. In 2019 this was beautifully brought to life in a popular children's book, also called the Birds' Song, by Rostrevor born artist Colum McEvoy.